Sejarah singkat Piri Reis
http://en.wikipedia.org/wiki/Piri_Reis
Piri Reis(nama asli Hadji Muhiddin Piri Ibn Hadji Mehmed) lahir pada 1465, di Gallipoli, Turki, yang merupakan wilayah pantai. Ayahnya bernama Haci Mehmet, sedangkan bapa saudaranya merupakan seorang laksamana terkenal ketika itu, Kemal Reis.
Sepak terjang Kemal Reis di laut lepas, membuat Kesultanan Uthmaniyyah memberinya kedudukan terhormat di Angkatan Laut kerajaan pada tahun 1494. Tambahan pula tenaganya membuat angkatan laut Kesultanan Uthmaniyyah semakin kuat. Mereka terkenal, dengan perjuangan tanpa akhir bagi tegaknya Islam.
Bergabungnya, Kemal Reis di angkatan laut kesultanan, membuat Piri pun akhirnya bergabung pula beberapa saat kemudian. Ia tetap berada di bawah arahan bapa saudaranya, walaupun beliau telah mula dipercayai untuk memimpin pasukan kecil.
Setiap selang waktu, Piri seringkali pulang ke kampung halamannya. Di sana beliau tidak tinggal diam, namun mencatatkan setiap apa yang dilihatnya dari perjalanannya selama ini ke dalam sebuah karya; peta. Terbukti, pada 1513 ia mampu menghasilkan sebuah peta dunia. Dalam karyanya itu, ia memetakan Laut Atlantik serta pantai-pantai di Eropa, karyanya diberi tajuk I-Bahriye.
Belief in the existence of a Terra Australis—a vast continent in the far south of the globe to "balance" the northern lands of Europe, Asia and north Africa—had existed since the times of Ptolemy (1st century AD), who suggested the idea to preserve the symmetry of all known landmasses in the world.

Depictions of a large southern landmass were common in maps such as the early 16th century Turkish Piri Reis map.

Even in the late 17th century, after explorers had found that South America and Australia were not part of the fabled "Antarctica", geographers believed that the continent was much larger than its actual size.
http://en.wikipedia.org/wiki/Antarctica
http://en.wikipedia.org/wiki/Piri_Reis_map
Sebagian peta-peta dari Laksamana Piri Reis adalah hasil dari buku-buku kuno Alexander Yang Agung
http://en.wikipedia.org/wiki/Alexander_the_Great
Ahli-ahli tafsir merujukkan bahwa Alexander Yang Agung disebutkan dalam Al-Quran dengan panggilan Dzulqarnain, kisah-kisah perjalanannya mengelilingi bumi termuat dalam Al-Quran.
Al-Quran wrote:

Mereka akan bertanya kepadamu (Muhammad) tentang Dzulqarnain. Katakanlah:"Aku akan bacakan kepadamu cerita tentangnya".

(QS. 18:83)

Sesungguhnya Kami telah memberi kekuasaan kepadanya di (muka) bumi, dan Kami telah memberikan kepadanya jalan (untuk mencapai) segala sesuatu,

(QS. 18:84)

maka diapun menempuh suatu jalan.

(QS. 18:85)

Hingga apabila dia telah sampai ke tempat terbenamnya matahari, dia melihat matahari terbenam di dalam laut yang berlumpur hitam, dan dia mendapati di situ segolongan umat. Kami berkata:"Hai Dzulqarnain,kamu boleh menyiksa atau boleh berbuat kebaikan terhadap mereka".

(QS. 18:86)

Berkata Dzulqarnain:"Adapun orang yang aniaya, maka kami kelak akan mengazabnya, kemudian dia dikembalikan kepada Tuhannya, lalu Dia mengazabnya dengan azab yang tidak ada taranya.

(QS. 18:87)

Adapun orang-orang yang beriman dan beramal saleh, maka baginya pahala yang terbaik sebagai balasan, dan akan Kami titahkan kepadanya (perintah) yang mudah dari perintah-perintah Kami".

(QS. 18:88)

Kemudian dia menempuh jalan (yang lain).

(QS. 18:89)
Perhatikan bunyi ayat yang di bold, Apakah yang dimaksud ALLAH memberikan kemampuan pada Dzulqarnain untuk dapat membuat peta(
"Kami telah memberikan kepadanya jalan (untuk mencapai) segala sesuatu,"
).
Fakta sejarah pun mengatakan coba kita kutip kata-kata Laksamana Piri Reis asal usul buku-buku kuno tersebut pada atlas"Bahriye".Isinya sbb :
Dalam suatu pertempuran di laut melawan Spanyol dalam tahun 1501, Rais telah menangkap seorang pelaut Spanyol, yang membawa peta-peta yang jarang terdapat. Ketika ditanyai, si pelaut itu menjelaskan, bahwa dokumen-dokumen itu digunakan oleh Columbus pada waktu dia menemukan Amerika, dan bahwa dokumen itu berasal dari
"sebuah buku dari jaman Alexander Yang Agung"
Piri Rais juga menyatakan bahwa peta itu dibuat berdasarkan 34 sumber yang berbeda-beda. Ada 20 peta dari zaman Alexander yang Agung, 8 peta karya ahli geografi Muslim, 4 peta Portugis, dan 1 peta hasil karya Columbus.
Peta, yang berasal dari tahun 1513, menggambarkan pantai Perancis dan Spanyol, sebagian dari Amerika Selatan, Laut Atlantik dan bagian Barat dari Afrika. Peta tahun 1528 menunjukkan gambar Gronland, Labrador, sebagian dari Kanada, New foundland dan sebagian dari pantai Amerika Utara.
Pada waktu itu bagaimanakah luas pengetahuan kita tentang ilmu bumi? Para penyelidik Dunia Baru, Christopher Columbus, Vespucci dan Magellan, telah menemukan kepulauan Bahama, Porto Rico dan Haiti dari tahun 1492 sampai tahun 1498, pantai Brasilia dalam tahun 1501, dan Laut Pasifik dalam tahun 1519.
Walaupun demikian, namun
Meksiko, yang baru diketemukan dalam tahun 1520, dan Peru, yang baru diketemukan dalam tahun 1531, sudah terdapat pada peta tahun 1513, yang dibuat oleh Laksamana Turki itu!
Antarktika atau Kutub-Selatan, yang baru diselidiki dan dipelajari dalam abad ke 19, dan yang kini masih tetap menjadi obyek penyelidikan, SUDAH tergambar pada peta tahun 1528 buatan Piri Rais!
http://en.wikipedia.org/wiki/Antarctica
Seorang akhli membuat peta bangsa Amerika, yang bernama Arlington Mallery, telah membuat suatu kesimpulan, yang mengejutkan, sebagai berikut:
"Peta-peta ini tidak akan mungkin dibuat dengan ketepatan yang demikian cermat, tanpa adanya tuntutan hasil pengintaian dari udara! ". Dan kita semua sama2 mengetahui menggambar peta secara detail haruslah dilakukan dengan pencitraan jarak jauh (dari angkasa),

Pada Januari 1966, di majalah Fate, Profesor Charles H Hapgood menjelaskan penemuan yang mengagumkan tersebut. Ini merupakan hal yang luar biasa, Piri dapat memetakan tempat di mana seorang pun tidak dapat menemukan Antartika hingga 1818.Menariknya, Hapgood benar-benar tercengang, betapa lengkapnya peta tersebut dan langsung mengubah anggapannya selama ini bahwa orang-orang Islam tidak memiliki ilmu kartografi yang baik!. Ilmuwan Jerman, P Kahle, melakukan analisis dan mengiktiraf bahwa Piri merupakan seorang ahli kartografi yang handal dan terhebat sepanjang zaman.
Sang waktu terus merambat. Piri Reis, sang laksamana, telah memberikan sumbangan bagi kebesaran Kesultanan Uthmaniyyah, juga keharuman Islam. Ia telah menghasilkan prestasi besar dengan karyanya I-Bahriye yang menjadi panduan bagi orang-orang setelahnya, dalam berlayar. Beliau akhirnya meninggal dunia pada tahun 1554.
Beberapa Peta hasil dari Laksamana Piri Reis
Peta Eropa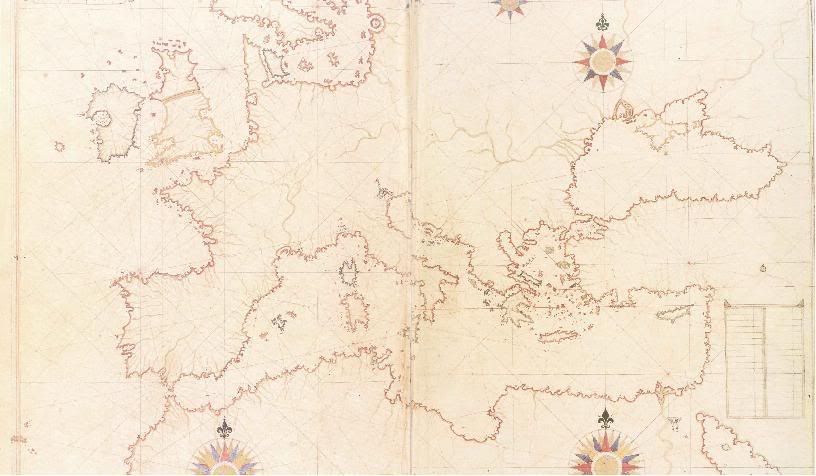 Untuk melihat lebih detailnya
http://www.hgk.mil.tr/haritalar_projele ... avrupa.jpg
Peta Dunia
Untuk melihat lebih detail
http://www.hgk.mil.tr/haritalar_projele ... _dunya.jpg
Bagaimana dengan kita?? adakah kita telah mengharumkan Islam di matadunia seperti yang telah beliau lakukan!!!